To transfer a taxpayer (client), follow these steps:
Login to eFiling
Select:

Organisations
Organisation
Register New

 Complete the information required and click "Continue" at the bottom of the page: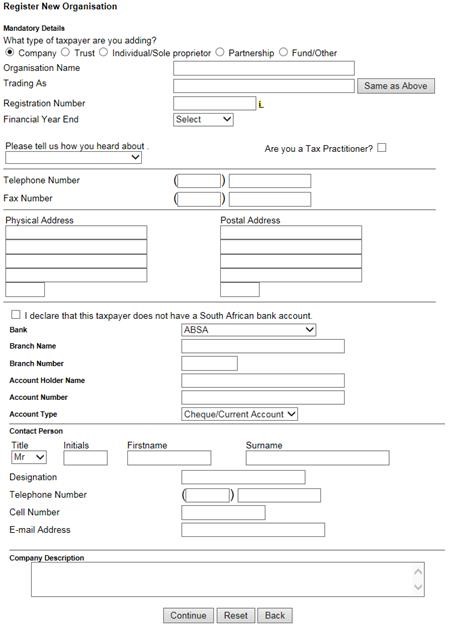 Tick the tax type box, fill in the tax number and click "Register"
A message will be shown, advising the taxpayer is already registered.
Click "Request Tax Types" on the left hand menu.
Select "Create New":

Select 'I agree' or 'I do not agree' under Declaration:

Fill in the reference number next to the tax type and click "Request":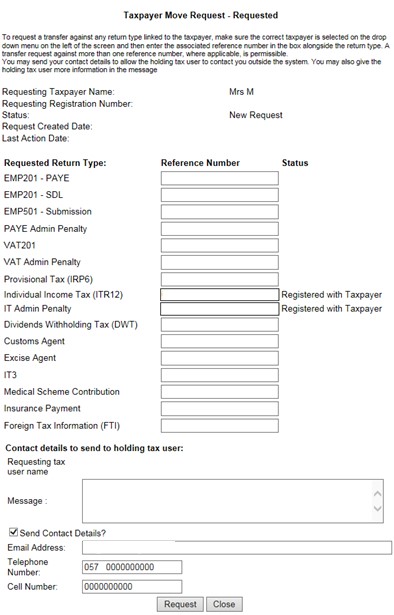 Type Transfer for Personal Income Tax and Provisional Tax:
This will send an automatic sms/ email notification to the Taxpayer (owner of the PIT) or the Registered Representative of the PIT, to transfer the tax type to the requestor.
The taxpayer/registered representative for that tax type will receive a sms/ email and must approve the transfer request by: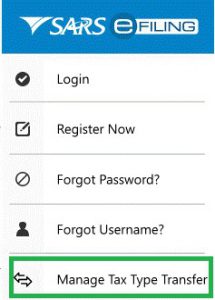 Complete the online form by capturing ID/ Passport number and tax reference number
An OTP will be sent to the taxpayer to capture
An online POA will be presented to the taxpayer to 'Accept' or 'Decline' the transfer request.
Please note: Where the request isn't accepted or declined within five working days – a reminder is sent to the taxpayer and/or registered representative to action the request. A notification will be sent to the requestor once the taxpayer has 'Accepted' or 'Declined' the transfer request.
Tax Type Transfer for Company, Trusts or Other Entities:
This will send an automatic request to the holding user to advise that you are asking for the transfer of the taxpayer (client).
The holding user will have the option to 'Accept' or 'Reject' the request.
In the case of a Deceased estate, the Registered Representative (usually the Executor) becomes responsible for any notices and approvals.
Please note: Where the request isn't accepted within five days:
Should you need more help, please call the SARS Contact Centre on 0800 00 SARS (7277).