Error screen when opening certain PDF forms
If you encounter the following error when opening certain PDF forms, follow the below easy steps in your relevant browser to download the PDF and open it successfully. 
Error when opening certain PDF forms: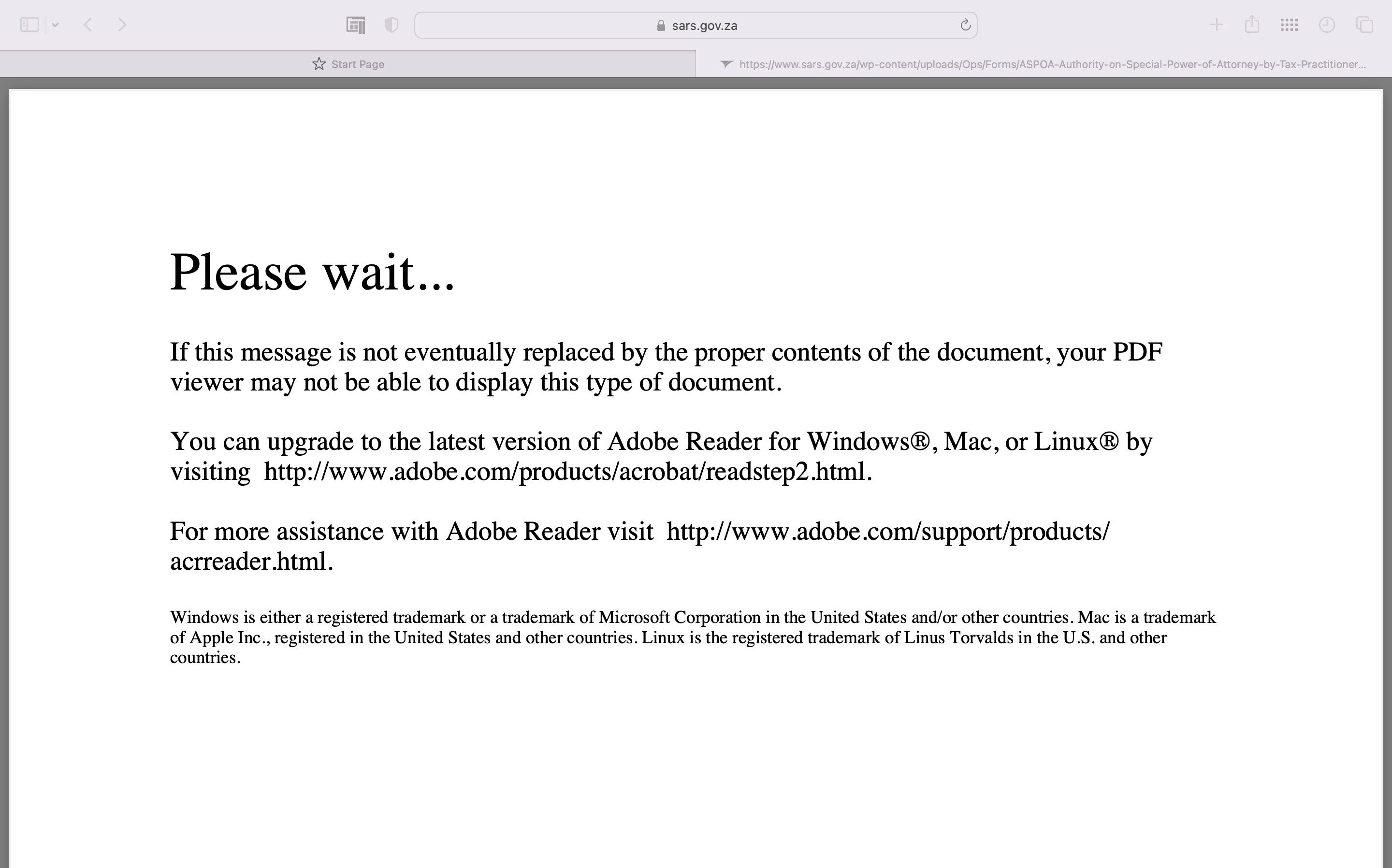 It's a known, universal compatibility issue and we apologise for any inconvenience.
Workaround steps to resolve 
Depending on your chosen browser, follow these easy steps to be able to successfully open the PDF form:
Edge
Chrome
Safari

Open a new tab in Edge and click on the three dots top right:

On the dropdown, click on Settings>Cookies and Site Permissions>PDF documents: edge://settings/content/pdfDocuments. Then click on 'Always download PDF Files' – it must be 'on':

Copy the problem form's link into a new Edge tab and press enter e.g. https://www.sars.gov.za/rc01-application-for-certificate-of-residence-for-individuals-external-form/

The form will automatically download, click on 'Show in folder'.

The file structure will open, click on the PDF and it should work.

Open a new tab in Chrome and click on the three dots top right. Click on 'Settings':

Click on 'Privacy and security', the 'Site settings':

Expand 'Additional content settings' and click on then 'PDF documents':

Select the 'Download PDFs' button:

Safari on Mac or Windows

Launch Safari and choose Safari > Preferences:

In the Preferences window, click Security, and then click Website Settings next to Internet plug-ins:

Select Adobe Reader in the list of plug-ins. Under When Visiting Other Websites, in the drop-down list choose Allow Always and click Done.

The browser is now set to use the Adobe Reader plug-in to display PDFs.