Pretoria, 2 March 2015 – The SARS Customs team at OR Tambo International Airport made narcotics seizures worth over R16 million this weekend.
On the evening of Friday 27 February the SARS Customs team identified a male passenger for further checks while he was disembarking from a flight originating in Cotonou, Benin. He had checked in 3 pieces of luggage – bags each holding a large plastic "jerry can". These cans were found to contain small packets of liquid ecstasy totalling 30 litres – with a value of R9 million.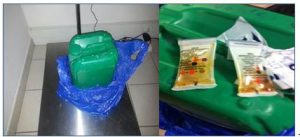 This route has been used regularly in the last few months (in both directions) and the Customs and other teams at OR Tambo have been monitoring passengers closely as a result.
On Sunday 1 March, an SAA flight landing in Johannesburg from Sao Paulo was identified as needing passenger checks.
A male passenger from this flight, in transit to Lagos, was taken aside immediately after disembarkation for checks. Although he initially denied having any luggage, his ticket indicated he had checked in one bag. When that was retrieved by Customs, it was found to contain 6.7kg cocaine – hidden in jam tins – with a value of R1.7 million.

A second – female – passenger had a very short connection time with a flight to Kinshasa. When her check-in luggage was examined, over 16.8kg cocaine was found concealed in handbags. The passenger was then identified and prevented from boarding her connecting flight. The cocaine had a value of R4.8 million.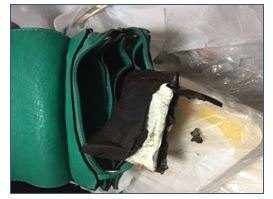 All these individuals and the narcotics they were carrying have been handed over to the SAPS for further action.