Pretoria, 3 March 2015 – The SARS Customs team at OR Tambo International Airport yesterday (2 March) evening seized 22.65kg of Crystal Methamphetamine ("Tik"), valued at R6.75 million, as it was being smuggled into the country.
The drugs were found when a female passenger, arriving in Johannesburg on a flight from Dubai, was identified for further checks and denied having any luggage. Her ticket however indicated that she had checked in luggage, and this was confirmed by messages on a cellphone in her hand luggage. The luggage was found by airport staff and handed over to SARS.
At this point SARS Drug Detector Dog "Eddie" was utilised, and gave a positive reaction – confirming that narcotics were being carried. The luggage was then searched and found to contain 6 small plastic "crèche" tables (tables for small children). One of these was dismantled and found to contain a substance which has been confirmed as Crystal Methamphetamine.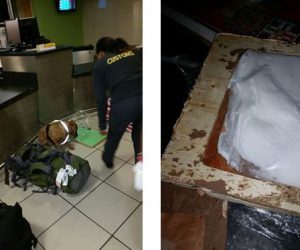 The passenger, her bags and the drugs were handed over to the SAPS at OR Tambo International, who will take the case forward.