SARS' approach to integrity
The SARS integrity model and approach is informed by our Country's Constitution which clearly indicates the kind of public institutions required, to enable us to realise a democratic and developmental state. SARS as part of the Public Administration is thus obliged to provide services in a fair, equitable, transparent and accountable manner. Equally, it calls for high standards of professional ethics, efficient and effective use of the resources it is entrusted with.
To this end, SARS is consistently true to the higher purpose, which is about championing the mandate of the organisation. Championing the mandate in a consistent and sustained manner requires that the organisation deliberately and purposefully promotes a culture of integrity to strengthen and support an environment that is intolerant of unethical conduct, fraud and corruption.
It is this drive and focus on the higher purpose that informs the integrity promotion framework that has been adopted by the organisation.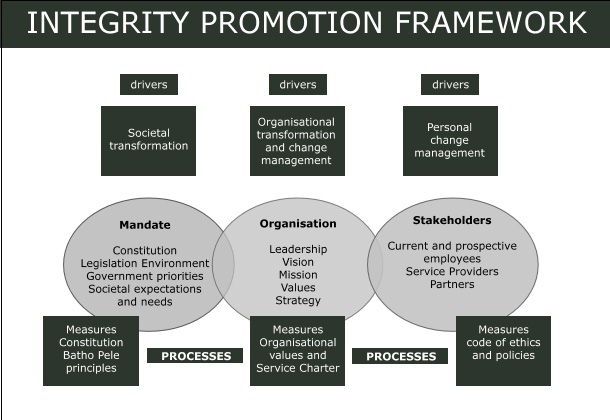 For SARS Integrity is defined as the pursuance of the higher purpose through consistent promotion, compliance and alignment with the SARS policies, regulatory framework and also living the SARS values.
To drive and promote a culture of integrity SARS has identified four key integrity drivers:
Values -Who we are and what we stand for. Values enhance organisational cohesion
Governance

Leadership – makes decisions about the direction of the organisation
Infrastructure – organisational policies, systems and processes

Culture – to shared beliefs, either formal or informal that influence behaviour in the organisation
Service Delivery
Out of the four integrity drivers Leadership is the most critical for SARS, based on the role and impact of leadership in the organisation. If the leadership is empowered; if the leadership understands and supports the integrity programme, inevitably a culture of integrity will be entrenched in the organisation.

The Integrity Promotion Framework is based on the principle of voluntary alignment with SARS values. This approach seeks to strengthen and promote doing right thing, sustaining the good that exists and making it very difficult for the bad to survive. The framework is supported by three pillars that inform the integrity promotion program.

 The objectives of the framework are:
Build public confidence and trust
Impact on trust levels both within the organisation and outside of the organisation
Prevent unethical conduct
Promote self-regulation