Edward Kieswetter
Commissioner of SARS
Date of Birth: 6 November 1958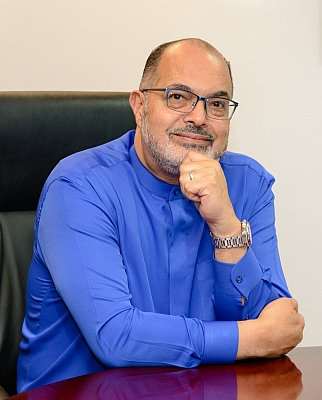 Profile  
Edward re-joined as SARS Commissioner on 1 May 2019. He had formerly served as the founding Group Executive of the SARS Large Business Centre and High Nett Worth Unit, SARS Chief Operating Officer and Deputy Commissioner during the period 2004 to 2009. From 2010 to 2016, he was the Group Chief Executive for the Alexander Forbes Group Holdings where after a successful turnaround, the company was listed on the JSE. Edward also held senior executive roles at FirstRand Banking Group and Eskom. Most recently he managed his own investments and served on various boards which amongst others included NE: Transnet, Chair: Technology Innovation Agency and Lead Independent: Shoprite Holdings.
He relinquished all these external roles when he took up the position as SARS Commissioner in 2019.
Edward's leadership capability has also been recognised by serving on a number of international roles, amongst them:
Elected as World Customs Organisation (WCO) chairman from June 2023
Co-Chair – African Initiative of the OECD Global Forum on Information Exchange for Tax Transparency
Vice Chair: OECD Global Forum on Information Exchange for Tax Transparency
Vice Chair: African Tax Administration Forum
Bureau Member of the OECD Forum on Tax Administration
Deputy Chair: Committee for Accounting Education Standards – IFAC
Chair: Committee for Auditor Ethics – IRBA 
Board Member: GEMS Education Global Academic Council
Edward's qualifications include a Master of Commerce in SA & International Tax Law (Cum Laude) from North-West University, an Executive MBA from Henley Business School (UK), a Master of Science in Education from the University of Western Cape, a Honours degree in Mathematics and Science Education, also from the University of Western Cape, as well as a National Diploma in Electrical Engineering from the Cape Peninsula University of Technology. In addition Edward was awarded the prestigious African American Scholarship and an academic appointment as an Associate in Education at Harvard University, USA.
He is the recipient of several awards including a Lifetime Achievement Award for Excellence in Management in 2017 from SAPSO, Finalist in the All Africa Business Awards 2016, ACO Dealmaker of the Year, 2015, and SA Boss of the Year, 1999.
He serves as a Visiting Professor at the Da Vinci Institute, the North-West University,  as well as Free State University and remains involved as a Social Activist in his personal capacity.