What is this?
In SARS' 'go green' drive; to create a paperless environment and to reduce our carbon footprint, we have created a consolidated electronic notification centre where eFilers will be able to get all SARS correspondence issued.
The SARS Correspondence will be available for all notices and letters relating to your Income Tax Return (ITR12) submitted to SARS via eFiling.
How can I view notices and letters in my eFiling?
The SARS Correspondence will be available on all the eFiling profiles including: 
Individuals
Organisations and
Tax Practitioners.
To access the SARS Correspondence, on your profile click:
Returns then
SARS Correspondence
Search Correspondence
The Search Correspondence screen will be shown. Various search options will be available to use.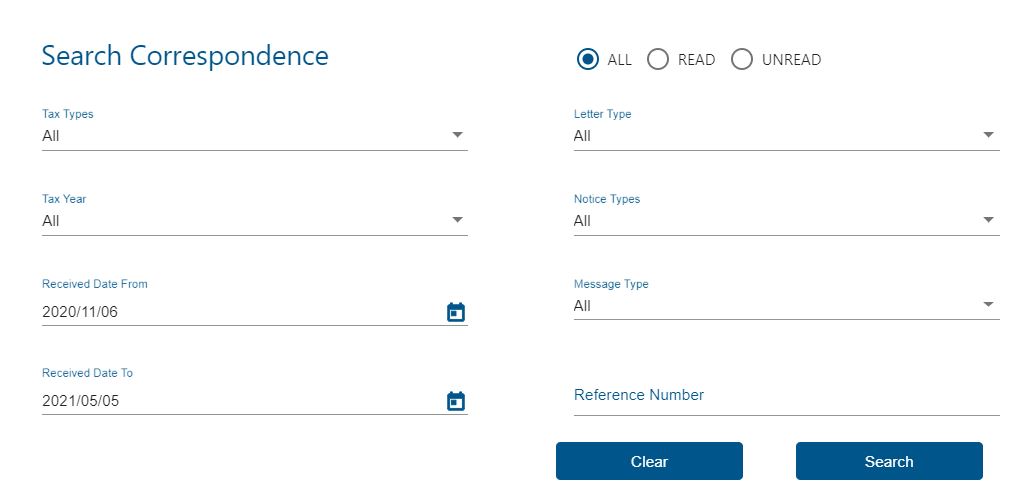 Top Tip: No correspondence will be shown, if no return(s) have been submitted.
When selecting From Date or To Date, a calendar will be shown. Select the relevant dates.


Choose which correspondence you want to see:

Click Search to retrieve the correspondence or Clear to start again.
Once the search has been done and if there are correspondence available, these will be listed on screen for the user to access.
Top Tip: A maximum of 100 correspondence will be listed.
Click on the View tab to view the correspondence.

Which notices and letters will be on the SARS Correspondence Tab?
Assessment Letter
Operations First Letter 1
Operations First Letter 2 – Revision failed letter
Operations Final Demand 1
Operations Final Demand 2
Enforcement First Letter
3rd Party Letter
Completion Letter
Engagement Letter
Findings Letter
Request for Supporting Documents
Auto Finalisation Letter
Need Help?
Call the SARS Contact Centre on 0800 00 SARS (7277) or visit your nearest SARS branch.   Top Tip: Stay informed by visiting the website regularly.